Snapchat's viral effect underlines the prowess it holds in the field of AR
Over the years, Snapchat has been recognised worldwide for its various engaging effects. It has provided its audiences with some of the most enticing and unique filters like spewing rainbow, dancing hotdogs, aged-up effects, and anime characters.
The notorious app is back at it again; this time, they have launched a new effect named "crying." As the name suggests, this effect will make you look as if you are crying. And no matter what you try, you cannot contort your face against it.
This effect has taken the internet by storm. Around 180 million people have used this filter a whopping 1.3 billion times. Unless you have been living under a rock, you couldn't have missed this effect on the internet. Various videos of people using this effect are circulating on famous platforms like Instagram, Twitter, and TIKTOK.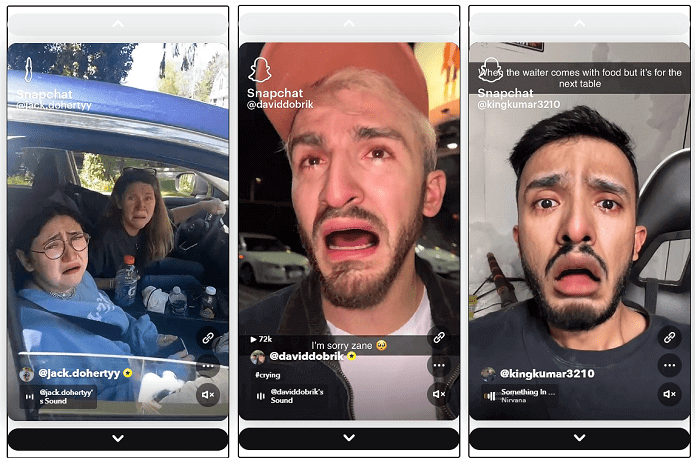 This should give you a fair idea of why Snapchat has remained relevant among its users, despite the growing competition that stole most of its notable features like Stories and AR effects.
People have been genuine users and admirers of the effect that Snapchat launches regularly. And this is why I think it remains a forerunner in the broadcaster's race toward AR Glasses.
Everyone knows that Meta is leading the race in the field of AR technology at the moment. It has already created an initial version of its smart glasses and will soon launch its brand new range of AR wearables too. Simultaneously, Google too had hinted about the development of AR Glasses at its I/O event.
From a vantage point, it may seem that Snapchat cannot compete with these tech giants. But when we delve deep into it, we can see that Snapchat indeed has a chance. The fact that it has survived in the market despite this tough competition proves that it understands its audience better. It knows what they want and fulfils their expectation every time. Hence, it may be able to capitalise better on it in the coming time.
We might soon witness the quality that Snapchat has to offer in this space, as it is soon to launch AR as an eCommerce element.
So, it is clear that Snapchat is best at AR development. With half the resources and technology as its competitors, it has managed to rattle the audience in a good way. Therefore, it's strongly recommended to put some faith in Snapchat's developmental capacity and audience understanding.
While making people look aged or crying is snappy. It also shows the capabilities of Snapchat as an AR developer. And they are only going to grow with time.